About Us
The SCS DAC was established in 2014 to quality evaluate full-resolution (sampling on the order of once per second) data collected by the Scientific Computing System (SCS) software onboard NOAA-operated research vessels. The SCS data are nominally transferred from the ship to the National Centers for Environmental Information (NCEI) soon after the completion of each cruise and are complimented with detailed cruise metadata from the Office of Marine and Aviation Operations (OMAO). The SCS DAC has developed tools to monitor the timeliness of SCS data delivery to NCEI and the completeness of the SCS packages received by NCEI (ensuring the package contains data for all enabled sensors on a given cruise). The SCS DAC provides feedback to OMAO and NCEI regarding the timeliness and data completeness. Data collected by SCS on NOAA vessels represent a significant investment by the American taxpayer. Archival of complete SCS datasets at NCEI ensures these data are preserved for future generations of scientists, policy makers, and the public.
In addition, the SCS DAC is developing an issue tracking system (ITS) that will facilitate feedback and response for problems related to SCS-connected devices (starting with meteorology and flow-water sensors). The ITS will connect "at sea" NOAA technicians, OMAO, NCEI, and, in the future, the U.S. Voluntary Observing Ship scheme office.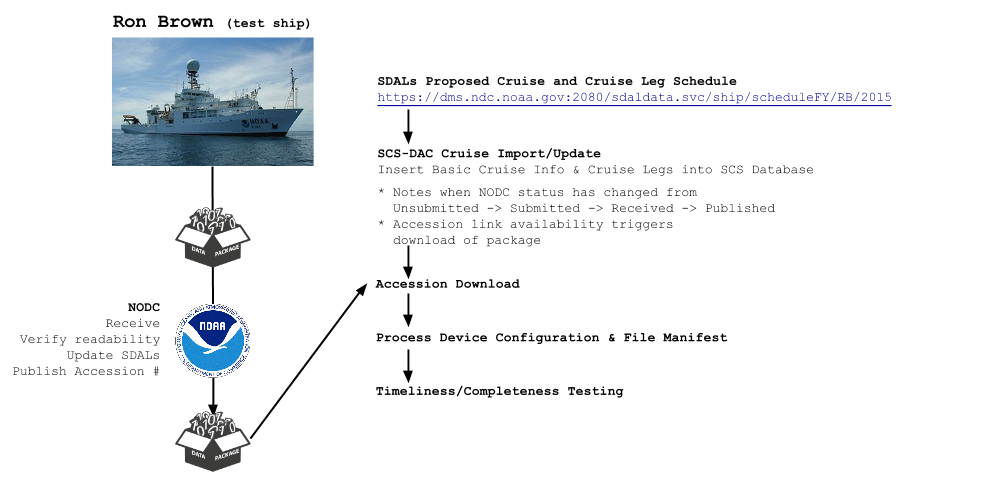 Mission
To quality evaluate Scientific Computing System (SCS) data packages submitted post cruise to U.S. national archives by NOAA-operated research vessels. Presently the DAC evaluates timeliness of delivery and completeness of the SCS data, but does not conduct any scientific data quality control of the observed values.
Acknowledgements
The SCS DAC is funded by NOAA Office of Marine and Aviation Operations (OMAO) via a partnership with the NOAA Climate Observations Division (COD) and the Shipboard Automated Meteorological and Oceanographic System (SAMOS) initiative. Funding for SAMOS is provided by NOAA/CPO/COD via the Northern Gulf of Mexico Cooperative Institute administered by Mississippi State University and the U. S. National Science Foundation's Oceanographic Instrumentation and Technical Services Program (grant OCE-1447797). Starting in 2013, the Schmidt Ocean Institute (SOI) provided contract funding to recruit the RV Falkor to the SAMOS initiative.
Collaborations
The SCS DAC team works closely with personnel at NCEI-Maryland to ensure that all SCS post-cruise data packages are archived in a timely manner. We also have close ties to the NSF-funded Rolling Deck to Repository project which has developed a prototype cruise catalog for select NOAA research vessels. The SCS DAC is also a contributor to the NOAA-Rolling Deck to Repository project.